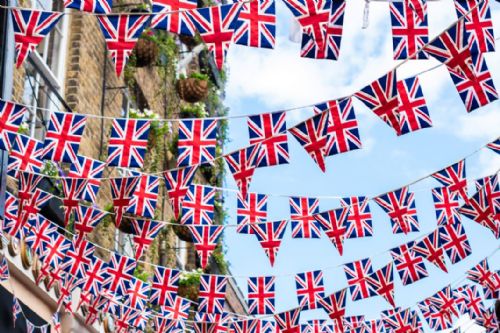 Returning home on the 8th September 2022, I turn on the television to hear that our beloved Queen Elizabeth 11 has passed away at the age of 96. I like many other citizens in our country had never known any other head of state. It was like losing a family
member. People here and indeed the world over were devastated to hear that her seventy-year Reign had come to an end. Collectively we would go into a period of mourning and the days that followed her death were reminiscent of those that followed Princess Diana's - namely a great sense of loss and emptiness.

As the nation waited for details of the funeral, which had been long planned under the guise of operation London Bridge - we paid our respects by laying flowers, signing condolence books and visiting London to join the long queues at Westminster Hall where Her Majesty lay in state.

The day of the funeral is one that I wanted to share with close friends and as we gather around the television to watch the service from Westminster Abbey and then the procession through Windsor Park and to her final resting place at St Georges Chapel, we are for the most part quiet – We share food and wine and check each other to see who has a tear in their eye. Nothing prepares us though for the emotion of seeing Emma the Fell Pony lining the route as a mark of respect to the late Queens love of Horses - a handkerchief moment if ever there was one.

It takes some getting used to hearing people say God save the King and singing the National Anthem in a different way, but once the funeral draws to a close, we fully embrace the new King and his Queen Consort. This is history in the making and everybody wants to be part of it – We watch the new King mingling with his people and visiting towns up and down the country. He visits the four nations, unveils a statue of his late Mother at York Minster, has a TV part in the Repair Shop and makes his first Christmas Broadcast to the nation which pulls in a combined audience of 10.7 million!We breathe a sigh of relief as we watch the Monarchy continue in its usual way.

As Christmas and New Year passes, we look forward to 2023, a year that will be full of Royal celebrations. Britain is good at doing these and showing the world all that is ancient and glorious. For those of us old enough to remember we look back at the wedding of Charles and Diana which was watched by an audience of 750 million worldwide. To the Jubilees of the Queen and the massive crowds that waited her balcony appearances and to her platinum celebrations where the Red Arrows performed breathtaking moves in the sky, culminating in a 70 formation. The kings Coronation will be no different – pomp and pageantry in abundance and I, like millions of others cannot wait.

Westminster Abbey, as on so many previous Royal occasions will be in the spotlight once again – May 6 2023 will be recorded in the history books as the day King Charles 111 and His Consort Camilla were crowned. There will be celebrations throughout the land with street parties, picnics and family gatherings. There will be a special concert from Windsor Castle which will be aired on BBC1 on Sunday 7th May.

For me its going to have to be a large rental house where family and friends can gather for the celebration. We have looked at lots of potential places from large party houses, luxury manor houses and stunning castles and we have now whittled the choice down to the last three and will make our final decision this coming weekend.
Cromwell House in West Sussex seems to tick all the boxes. Formally Oliver Cromwell's hunting Lodge and situated in the South Downs National Park - it is steeped in history and boasts outdoor swimming pool and tennis court, The interior is stunning and is definitely a candidate for a Royal Celebration. Another candidate is the 9000 Sq.Ft.. Mayfield House which is in East Sussex and just seven miles from Royal Tunbridge Wells where a visit to the Pantiles is a must. The house is very imposing and at first glance you would think it could be old, but the building was only completed in 2012 in the Palladian style. This house boasts an indoor pool, cinema room and gym and well as being set in beautiful grounds. Last but certainly not least is Polpier in the Cornish fishing village of Mevagissey. This seems to be leading the pack. A stunning house set high above the harbourside with outdoor pool, tennis court and fabulous tended gardens - it is also close to the beach as well as the Eden Project and the Lost Gardens of Helligan. All three houses are also near National Trust properties and fantastic gardens which open to the public.
Whichever house we finally choose we will celebrate the day in style. After a hearty Breakfast we will take our seats and watch the historic events unfold. We will enjoy Pimm's or Kir Royale and raise our glasses to the King. In the afternoon we will have a fabulous afternoon tea consisting of lovely crustless finger sandwiches with fillings of egg & cress, smoked salmon, cream cheese & cucumber and of course coronation chicken – there will be warm sausage rolls & homemade scones with strawberry jam and
thick clotted cream and a lovely array of homemade cakes including a Victoria sponge. We will lay the table with pretty China, freshly picked flowers and Union Jack napkins and bunting. We will wear crowns and play music fitting for the occasion and we will be proud to be part of this historic moment – Proud to be British and Proud to Bless our new King
Victoria Sponge Sandwich: Ingredients 4 Free Range Eggs -8oz Castor Sugar - 8oz self - raising flour – 2 teaspoons of baking powder and 8oz of room temperature butter. Best quality strawberry Jam and whipped cream if you like.

Pre heat the oven to 180c or 160c fan or gas 4. Grease the base and sides of two 8" round tins and line the base with baking parchment paper.
Break eggs into a large bowl and add the sugar, baking powder, butter and flour mix with an electric hand whisk until combined and dropping consistency – divide mixture equally between the two tins and smooth the top with a spatula. Bake for 20/25 minutes or until coming away from the sides of the tins and springy to touch. Leave to cool in the tins for 5 minutes then remove to a cooling rack. One completely cold spread both sides with jam and place cream on one side if using. Put one on top of the other and dust with icing sugar – if you put the cake of a larger plate you can decorate with strawberries.
Coronation Chicken: 8oz of Mayonnaise or Greek Yoghurt. 1 dessert spoon of Mango Chutney, 2 teaspoons of Curry Powder, 2 dessert spoons of sultanas, salt and a grated clove of garlic – combine all the ingredients and mix really well add chopped chicken and fold in.
Want to visit one these beautiful locations across England and Wales? The Wow House Company are here to help. Our selection of large houses to rent provides the perfect spot to enjoy a break with family and friends and explore England and Wales.
Y
ou can choose a property that sleeps from 5 up to 40 people and most come with that added Wow Factor such as hot tubs, swimming pools and games rooms – not to mention beautiful gardens and some amazing views. Please contact our team on info@thewowhousecompany.co.uk and we'll get back to you.