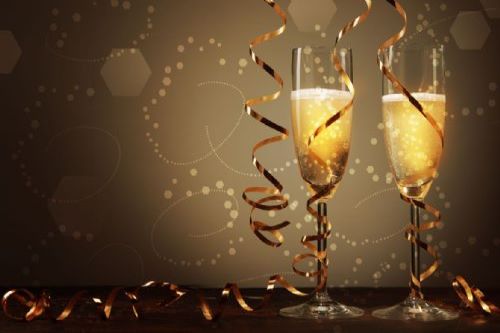 The one thing in life we can all be assured of, is that every 365 days we will have another Birthday. Some of them pass without fuss or fanfare, whilst others, usually with a nought on the end become cause for celebration. We take the opportunity to invite friends and family to share our special day. We receive cards, presents and flowers and endlessly check social media to see who has sent good wishes.

The Pandemic deprived many of us from celebrating special occasions. Most weddings, birthdays and anniversaries had to be cancelled either because of lockdown or social distancing measures. Hopefully that is all behind us now and we can move forward and party!

Having missed my own special Birthday, I have been lucky enough to have received invitations to three celebrations - two 50th Birthday's and a Golden Wedding Anniversary. I am looking forward to seeing how others plan and carry out their events.

My first invite was to my close friends 50th. He had decided to have an intimate party, inviting family and close friends only. For this, he chose a Large house to rent truly wonderful, and truly luxurious house in the beautiful fishing village of Mevagissey. It is a stunning village nestled on the sleepy south coast of Cornwall and in an area of outstanding natural beauty. The house was in an elevated position so we were able to enjoy harbour views and the most glorious of sunsets, whilst eating alfresco during the warm summer nights. It was a house that had everything. Apart from the Wow interior, there were large Sun terraces, outdoor pool, tennis court & well - tended gardens. The sort of house you would buy with a sizeable lottery win.
Speaking of garden's, the Lost Gardens of Heligan are just a couple of miles up the road (admission £18.50) or slightly further at ten miles is the Eden Project (£32.50 for a standard ticket) both are "Must do" attractions whilst visiting the area.

The Village of Mevagissey is busy with visitors, and they and transport compete for space in the narrow streets. But it is worth visiting. Apart from the quirky shops, many selling local art and pottery, there are plenty of old pubs serving excellent food and local ales and bakeries whose aromas draw you in and tempt you to buy one of their delicious traditional pasties. We enjoyed ours sitting on the picturesque harbourside whilst being watched by the forever hungry seagulls.
The party was a great success. On the actual day we enjoyed a hearty breakfast of smoked salmon and scrambled eggs and a delicious 4 course dinner. My friend opened his many presents, blew out the candles on his cake and then danced the night away like a 20-year-old.

It was the perfect Golden 50th Birthday party.

It is now the peak of the English summer. Some parts of the country are basking in temperatures of 40c so it is of great relief that we are to spend the weekend on The English Riviera where we can enjoy the gentle breeze coming off the English Channel. My Aunt & Uncle retired to Torquay some years back and bought a lovely apartment with a sea view.

We are here to celebrate their 50 Golden years of marriage and the happy one it has been.
Their apartment is not big enough to accommodate all the guests so we rented a big house that can sleep ten of us. Outside caterers have been sourced through the property rental company. A cold buffet dinner has been chosen, which is perfect for the hot weather conditions.

I am staying in one of the local hotels and call up to the house on Saturday to see if I can assist with anything. Already it is the hive of activity. Buffet table clothed, plates with gold napkins, gold balloons and streamers everywhere, a cake table and jugs waiting to be filled with Pimm's for when we arrive later.
As everything seems organised, I leave and take a downhill stroll to the Harbourside where I find a spot for a glass of wine and where I am able to people watch. The Inner Harbour is one of the towns main pulls, lots of boats of all different sizes and colours bobbing about on the clear water. Around the harbour are restaurants, tearooms, and a department store as well as the usual rock, fudge shops.

The real Jewel in Torquay's crowns is Agatha Christie. Born here in 1890 she went on to write sixty detective novels and fourteen short story collections, including those revolving around fictional detectives Hercule Poirot and Miss Marple. She remains the worlds best selling novelist of all time – she is only outsold by the bible.

Her holiday home, Greenaway, is open to the public during the summer months and at weekends during the winter months. Boat trips sail regularly from Torquay Harbour to Dartmouth in the summer and a connecting boat can be taken from Dartmouth to Greenaway. There is also a steam train that runs from Paignton to Dartmouth and gives you a feel of elegant nostalgia.

The evening is joyous! nothing too much, just lovely food and a real sense of a family occasion. It is still hot, so we eat outside and return back inside for the cutting of the cake, the champagne and the lovely speeches, reminiscing of their 50 golden years together. There were tears, there were smiles and there was much laughter - but most of all a real sense that everyone had a truly wonderful evening which ended with a sing song around the piano.

In my younger days I was a fan of Blackpool, I had many a fun weekend there, usually paryting too hard and drinking too much – but alas those younger carefree days are long behind me and I opt for a more genteel pace of life. It was therefore with an air of trepidation I return to attend yet another 50th party. Ben is a work colleague of mine and insisted I attend the party house to rent that he had booked even though I am by far the eldest in the group!

On the promise of dinner at an award - winning restaurant, I take the long road north. It is middle November and the cold that comes off the North Sea is biting. I am dressed with layer upon layer but still it feels like my ears don't belong. As we set off from the house, we view the incredible illuminations that are the towns saving grace during the winter months. Over a million bulbs light the seafront. The theme this year is the 1930's and the Art deco period. It is a stunning sight that everybody should see at least once.

We arrive at our destination for dinner which happens to be one of the towns award winning fish and chip restaurants – not quite what I had in mind, but it is warm inside and the food excellent and we are promised better things to come. On Saturday, the day of the birthday, we meet for breakfast and take a tram to the Pleasure Beach amusement park where I am persuaded against my better judgement to join the others and ride the main roller coaster. It was frightening and in future I must trust my better judgement! I enjoyed some of the more genteel rides and the somewhat rickety Rollercoasters. Entry to the park is not cheap at £42 per adult on the gate, but a discount of £10 is available if you book online. It is great fun and definitely worth a trip, if your heart and nerves can stand it.
We all know the Blackpool Tower Ballroom from Strictly Come Dancing and our next surprise is a visit to enjoy a truly wonderful afternoon tea. Sitting in this very ornate, grade 1 listed building, listening to the Wurlitzer and watching very keen ballroom dancers take to the floor is a real treat and worth every penny of the £25.00 they charge for tea.
For our last evening we were taken to Funny Girls an established bar with a Burlesque drag show. We enjoy dinner and admire the sheer professionalism of the show. Its Clever, funny and enjoyed by everyone who goes – So a must do, even if you think it is not your thing.

So, there you have it. Three invites, all celebrating the same golden theme and I will treasure the memories of each. I loved the relaxing feel and the luxury of the Mevagissey house. I loved Torquay and will return for a longer stay sometime soon and might even rent the same house. And Blackpool…. Well, everybody has to walk that golden mile just once in their lifetime - but take a tip and do it before your golden days catch up with you.
Want to visit one these beautiful locations across England and Wales? The Wow House Company are here to help. Our selection of large houses to rent provides the perfect spot to enjoy a break with family and friends and explore England and Wales.
Y
ou can choose a property that sleeps from 5 up to 40 people and most come with that added Wow Factor such as hot tubs, swimming pools and games rooms – not to mention beautiful gardens and some amazing views. Please contact our team on info@thewowhousecompany.co.uk and we'll get back to you.