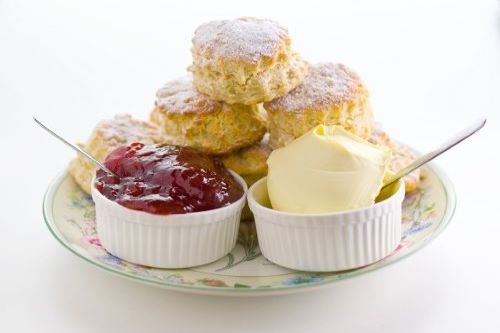 This is my second mini tour of the year. In the summer months it was discovering the delights of the City of Chester and the beauty of North Wales. My Sister had arranged a family gathering and rented a large luxury house on the river bank in Chester. We had a wonderful time exploring the area and visiting the close by, Medieval, Ruthin Castle and North Wales.
It is autumn and the leaves are changing colour and starting to fall. There is still a little warmth in the sun and the tourist crowds have long gone. Late October and early November makes an ideal time to take a quiet break.
I start my tour with a visit to Cornwall and to the delightful village of St. Mawes. I am only here an hour when the heavens decide to open – It is torrential, so I head for one of the hotels and order afternoon tea. It is cosy, with a real fire that scents the room with the smell of damp logs. The scones are warm, the jam plentiful and homemade and the clotted cream, thick and yellow, just as it should be. I sip my tea and try to remember is it cream first and then jam or the other way. The group of ladies staying in town for a Hen Party are also taking tea and tell me it's the other way.
After two days in Cornwall, I head inland and away from the strong sea breeze and continuing rain. Traffic on the motorway is heavy so I detour and head off to Exeter to view its Medieval Gothic Cathedral which has stood proudly in the city for nearly 1000 years. Its vaulted ceiling is a masterpiece and its delightful setting on Cathedral Green makes it a must do visit on any trip south. After a pub lunch at an Inn frequented by Charles Dickens its time to head off
I have a friend who lives in Bath. She moved here 10 years ago to "be at one" with her heroine Jane Austen. A Museum on Gay Street chronicles the life and times of the famous writer and is well worth a visit. My first port of call is the Royal Crescent – it is a masterpiece that quite simply takes your breath away. Building started in 1767 and took just eight years to complete! It houses 30 Grade One properties which include a luxury Hotel and a restored town-house Museum where you can explore fashionable life in Georgian Bath of the 18th Century.
UNESCO World Heritage has awarded Bath with two awards - One for its European Spa status and one for the Roman Baths – which happens to be my next port of call. The £25.50 midweek entry fee is worth ever penny. Here you can explore hot springs, Roman archaeology and the 2000 Year history that awaits you. I visit the ancient Abbey next door and eat in the delightful Pump Room where you can still sample the waters. There are Parks, shops, restaurants, theatres and so much more in wonderful Bath – but alas I must move on.
I am heading to Dorset, a county I am unfamiliar with, except for brief visits to Bournemouth and Poole. This time I want to visit Lulworth Cove and find out more about its Jurassic coast – Having been given the honour of UNESCO first English World Heritage Site, it does not disappoint. Stretching 95 miles from Exmouth in East Devon to Studland Bay in Dorset, it is a 185 million year geological history – years of coastal erosion creating rock formations from the Triassic, Jurassic & Cretaceous periods. Charmouth Heritage Coastal Centre is a must, as is a visit to The Spittles, Durdle Door & Gad Cliff. After two days, I have fallen in love with Dorset there is just so much to do and see. On returning home I am going to look at large houses to rent around Lulworth Cove for our next holiday and hope the family are up for a serious walking and activity holiday.
Its Friday morning and my short break draws to a close. I am heading to Oxfordshire to attend a wedding. After a light breakfast of freshly baked Croissant & Coffee, I set off through beautiful countryside and more colour palettes of the Autumn trees. Britain in the fall really is a thing of great beauty.
Arriving in Oxfordshire in time to visit one of my favourite places - Blenhiem Palace – another UNESCO world heritage site. This large country house has many accolades. Birthplace of Winston Churchill. Home to the Duke of Marlborough and the only non - Royal house in England to hold the title of Palace. Built between 1705 – 1722 in the short lived, Baroque style, it is truly stunning, wonderful furnishings, tapestries, history and gardens. Perhaps what you would call England's original Wow House.
I stay the night in the delightful Market town of Woodstock and reflect on the places I have visited this week – Cornwall which never disappoints & World Heritage Sites which have stopped me in my tracks – it has made me appreciate all that is good about staying in this country and makes me keen to see more - Is there a place quite like England? – Its beauty, its coastline, its diversity, its buildings, its heritage, its countryside. I have enjoyed every minute of it and will definitely sleep well tonight.
Want to visit one these beautiful locations across England and Wales? The Wow House Company are here to help. Our selection of large houses to rent provides the perfect spot to enjoy a break with family and friends and explore England and Wales.
You can choose a property that sleeps from 5 up to 40 people and most come with that added Wow Factor such as hot tubs, swimming pools and games rooms – not to mention beautiful gardens and some amazing views. Please contact our team on info@thewowhousecompany.co.uk and we'll get back to you.