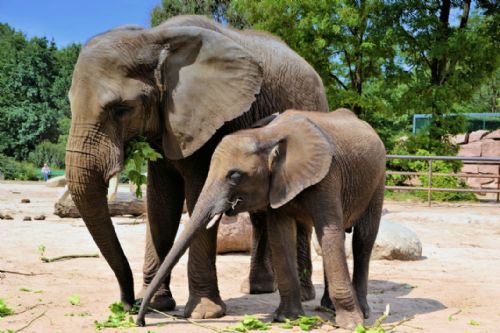 I love Zoo's. I have always loved them, and as a young lad my Mum would often use my passion as a bargaining tool saying "if you are a good boy you can go to the zoo" but more often "if you don't behave, you will not be going to the zoo" the fact is we only ever went once or twice a year anyway - but it kept me in line.

Our local zoo was Bristol and in the late sixties it was without doubt one of the finest - offering everything from big Cats, Giraffes, Polar Bears, a Grade 2 listed Monkey Temple and a bedecked & Jewelled Elephant that was happy to take you for a short ride around the park. They also had the most stunning walled gardens and herbaceous borders - borders that gardeners from far and wide came to visit and envy. Alas, over the years the stock of some of the big animals diminished as zoo's started to specialise in various breeding programmes. Bristol Zoo opened in 1836 and held the accolade as the worlds fifth oldest Zoo. In November 2022, against much public protest and outcry, it decided to close its doors for the very last time. In the future there will be a new venue to the North of Bristol and we can only hope it will become as loved and as iconic as its predecessor.

It is March as I write this and the saying: March - In like a lion and out like a lamb is certainly true this year. Parts of the country have seen heavy snowfalls, whilst further south has been bitterly cold. We have had rain, sleet, heavy winds and pretty much everything else that metrological repertoire can throw at us. Easter is around the corner which is the start of the UK holiday season. And the main summer holidays are not far away.

The long school break which children await with glee and parents the end of it - is an ideal time to visit one of England's finest Zoo's or Safari parks. They are not only a brilliant day out, but also highly educational and often interactive.

We are a family of ten, so for us its often easier to rent a large Holiday House and usually more cost effective than a hotel. This year we are renting three such houses so we can visit different areas of the country and take in different Zoo's and other attractions.

We will start our adventures in Torquay and have rented Riviera House which is a beautifully restored and renovated Victorian manor House - it is set within three acres and boasts hot tub, games room and outdoor kitchen, it is also just a couple of miles from Paignton Zoo.

I have visited Paignton Zoo before and vividly remember the fantastic Baboon troop that live at Baboon Rock – from the viewing platform you can watch the groups complex social structure which can at times seem quite rough and aggressive, but is great fun. I also remember meeting a group of young ladies who had the biggest Picnic I had ever seen - they were on a Hen party weekend and were frightened of the Baboons and most of the other animals! I found that funny at the time.

Torquay itself has much to offer - a long Promenade, a wonderful picturesque inner Harbour. Boat trips to Brixham and Dartmouth - a Model Village at Babbacombe and just up the road an award - winning Fish and Chip shop which you can takeaway and sit and eat them on the Clifftop Green whilst enjoy stunning views across to Lyme Bay.

Our next stop, by way of consensus, will be a four - night break to the Cotswolds where we will visit the Honey Coloured Villages of Stow on the Wold, Bourton on the Water, The Slaughters, Cirencester and the Regency spa town of Cheltenham where I fear much will be spent in the shops along its famous Promenade. We will also visit the Cotswold Wildlife Park. We have booked into a large holiday home but this time to ring the changes we are going to try a Cotswold Barn and very stunning it looks too. Oh yes! all the usual factors of a Wow House interior but this time we have the addition of an outdoor swimming pool and Hot Tub – How we are going to love that and I shall keep it secret until our arrival.

The Cotswold Wildlife Park is situated outside the delightful tourist town of Burford. It is a real family friendly venue offering 260 animal species within 160 acres of parkland. Unlike Zoo's many of the animals are allowed to roam free and there are drive through areas for close up viewing. The real Safari Moment is watching the Rhino graze on the Manor House Lawn. There are plenty of cafes and other eating places but we shall opt for a Picnic which we shall enjoy in the stunning gardens. We are so looking forward to exploring the Cotswolds but are also hoping we can make time to enjoy the luxury of our large holiday home.

Our last port of call caused some debate – do we visit the worlds oldest scientific zoo that opened to the public in 1847 and houses one of the largest collections of animals in the UK and is known as London Zoo or do we go further north to the historic City of Chester? We chose the latter because Chester Zoo is world renowned and world respected - it was opened in 1931 by George Mottershead and it houses some 35.000 species in 130 acres making it one of the largest. In 2017 it was voted the best Zoo in the UK and the 3rd best in the world. It is also the most visited wildlife attraction in the UK with some 2 million Visitors in 2019.

We have managed to rent a rather splendid large Party House in Chester Called River Dee House. It is a 19th century Regency Villa right in the heart of the historic city and above the ancient roman walls with a terrace overlooking the river Dee. Chester founded in the 1st century AD is full of history and a visit to The Rows is a must as is the Roman Amphitheatre which lies just outside the city walls.
Holidaying in England is not everybody's cup of tea but once we had sorted our fabulous rental homes which we will use as our base then there is nothing better - Think of our coasts, our countryside, our heritage, our stately homes, our wonderful gardens, our regional foods, our local ales, and our summer picnics ….and of course our world renowned award winning Zoo's. Nothing beats England – Our green and pleasant land.

A Summer Picnic
A selection of sandwiches – Egg & Cress, Ham &Tomato, Cheese & Chutney
Savoury Quiche Slices
BBQ Chicken Drumsticks
Pork Pies or Sausage Rolls
Hummus With Bread Sticks
Cherry Tomatoes, Celery sticks & Olives
Cheese & Biscuits with Fresh Fruit
Want to visit one these beautiful locations across England and Wales? The Wow House Company are here to help. Our selection of large houses to rent provides the perfect spot to enjoy a break with family and friends and explore England and Wales.
Y
ou can choose a property that sleeps from 5 up to 40 people and most come with that added Wow Factor such as hot tubs, swimming pools and games rooms – not to mention beautiful gardens and some amazing views. Please contact our team on info@thewowhousecompany.co.uk and we'll get back to you.