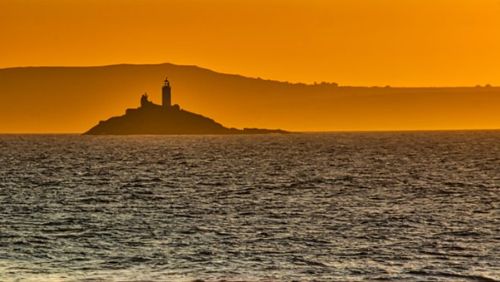 When I was in my early twenties, I read "To The Lighthouse'' by Virginia Woolf. Other than the fact that Virginia Woolf's writing was the literary equivalent of advanced arithmetic, I quite enjoyed it.

Sure, it was complicated. The grass grew long, and it was difficult to rummage through, unlike the clean, finely mown prose of authors like Edith Warton.
But there were jewels within that grass. Buried deep, perhaps. Hidden. But definitely there. And those jewels were emotion. Such outstanding emotion washed over you as easily as the sea washes over the shore.
It's the same kind of emotion that I felt late last summer, when I sat on the sunbed of Vista House, in St Mawes, Cornwall.
The sun was beginning to set. It was the last day of our holiday. The air was still and crisp with salt, and the noises from the house behind me – three kids and a slightly exasperated wife – were beginning to dim with the light.
The world was just settling down for a deep and quiet sleep. I wasn't going to sleep, however.
I was waiting for something…

Arriving At Vista House In St Mawes
Three weeks before, my family and I had just pulled up to the driveway of Vista House. We knew as soon as we saw it that this wasn't going to be like any of our other summers.
We had never really gone on holiday before. At least not as a family. So this was a world away from what we were used to.
Vista House was a big house to rent in the north of Cornwall. It had been described to us as a 'dream home', and it wasn't hard to see why.
The house sat upon a small mound, an understated building, modern but quaint, which it almost needed to be, given the expanse of the world around it.

The Merging Of Nature.
Like a painting hanging in the National Gallery, the garden was filled with glorious greens, yellows and reds, with pine trees bristling in the wind like the grounds were a portal to Florida.
Ahead of all of that, however, was the ocean that stretched into the horizon. The time was 16:00 when we arrived, so the light was beginning to get warmer, deeper, making the surface of the water look like it had been set ablaze.
To the left was the coastline, with jagged rocks peering out amongst the waves' froth. The whole family and I stood watching the scene in front of us for several minutes before we stepped inside our large holiday house. But we didn't need to.
The natural world was just as strong a presence inside those four walls as out. The kitchen, once again, was quaint and pretty, but it was elevated 100% by the view from the windows surrounding it. The bedrooms, too, were all set alight by the sun and the ocean, both of which wrapped themselves around the rooms.

A Feeling Of Peace And Tranquility
I've mentioned before that we hadn't ever really gone on a proper holiday, and there was a reason for that. My partner and I were workaholics, always forcing ourselves to work those extra hours, go harder, in order to provide for the family.
In other words, we don't know when to stop. But stopping can be so important, especially when you start pushing yourself so hard that you reach what feels like the brink.
We had reached that point and were, quite simply, beginning to get unhappy.
So we made the choice to get away – enjoy time with all of us together – in a beautiful place that, hopefully, might help us turn that emotion upside down.
Cornwall did that and more. Together as a family, we relaxed in the sun. We discovered local restaurants, we made memories at the beach, we braced the waters for morning swims, we took to the fields for late evening hikes.
We took hold of every inch of this beautiful county and made it our own. It wasn't a big holiday by any means, but it was exactly what we needed.

Reading A Book In The Cornish Sun
Rather than read through emails on my phone, I also brought a little book along with me: To The Lighthouse. I knew it was a favourite, but – at that time – I couldn't remember why.

So I took it and promised to give it another read sometime during the holiday. I did so in the second week, lying on the lawn beside some fruity-smelling spring squills.
Halfway through the book, my wife brought me a glass of cloudy lemonade with a collection of scones, jam, butter and cream – she's a keen baker who had decided to truly get into the Cornish spirit.
By the time I finished the second half, my scones were still warm. The sun still shining. This was the last day of our holiday, and we were getting to grips with the fact that we were actually going to have to leave this place.

Rediscovering The Emotion Of Life
During that evening, I remembered what I had so enjoyed about the book. Similarly, I remembered what I so enjoyed about life – and had perhaps lost over the past few years.
The beauty of feeling happy. Simply that. Simply happy. My wife and I felt happier in Cornwall, with our family, on our walks, or our swims, than we had felt in years.
Emotion is the important thing. That's what makes life worth living. I decided, after finishing the book and closing out my holiday, that I should never let anything get in the way of that.
No matter how long the grass was and how hard it might be to find happiness, I should always try.
That evening I sat on the sun lounger and watched the sunset. I was waiting for something. The lighthouse on the rocks by the coast. At half-past-ten, when the sun was finally gone and the night turned dark, it lit up and shone a beautiful ray upon the ocean's waves.
Want to visit one of these beautiful locations across England and Wales? The Wow House Company are here to help. Our selection of large houses to rent provides the perfect spot to enjoy a break with family and friends and explore England and Wales.
Y
ou can choose a property that sleeps from 5 up to 40 people and most come with that added Wow Factor such as hot tubs, swimming pools and games rooms – not to mention beautiful gardens and some amazing views. Please contact our team on info@thewowhousecompany.co.uk and we'll get back to you.