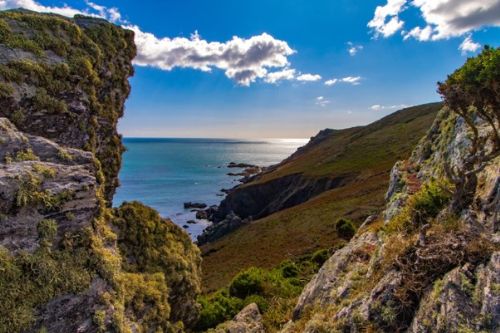 Did My School Friend Really Have A Vacation In Heaven?
My first experience of Devon came around twenty years ago. I was seven-or-so-years-old, fresh-faced, in the sweet mid-point between knowing how to tie my shoe-laces but struggling to do the knot in my neck-tie.

My best ever holiday was when my parents found some big houses to rent in West Sussex, but other than that, my vacations only ever extended to a beach in Southampton and the occasional trip to Cardiff to visit family. So I didn't really know what the rest of the world had to offer.

I'd heard of France – apparently they eat frogs over there – and I'd heard of places like the USA in passing – apparently they're all secret agents who save the President every other day. But other than that, my knowledge was skint.

A Trip To Heaven
You can imagine my amazement, then, when third-grade chum Gordy Oliver came home from his summer holiday full of stories about an incredible place he'd visited.

'We went to heaven,' he said, his eyes gleaming and his face spotted with some extra summer freckles.
'To where?' I asked.

'To heaven. It was great. We went surfing, ziplining, we visited caves, we ate strawberries, we even went snorkelling. My brother swears he saw a mermaid, but I told him they only exist in Costa Pika.'

Of course, as I got older, I began to realise that Gordy hadn't been eating strawberries on the other side of the pearly gates. He hadn't travelled on a golden escalator up into the clouds, but rather the more practical route of the M4 up toward Bristol and then down the M5 for Devon.

The Beauty Of Devon
It's the same route I took, when I finally decided to ditch Southampton and Cardiff for a more exotic holiday in the South-West. Yeah, yeah, Devon isn't exactly the Bahamas – or "Costa Pika" for that matter - but it's probably the closest one can get without going through the pain of travel visas or aeroplane food. Not to mention, it is beautiful.

Honestly, Gordy Oliver may have had a hard task hearing and pronouncing the letter "D", but he was certainly right when it came to the sheer beauty of the place. I'm recalling the month of August, when myself and my family decided to escape for a holiday before the days grew short and dark again - like they are now!


Arriving Into Torquay

There was a certain feeling of bliss when we crossed the border from Somerset and began heading through Exeter. Green pastures surrounded us, summer fruits hung delicately from the trees, so perfect that they could drop straight from the branches, into a Robinsons bottle and be immediately shipped off to the supermarkets.

When we finally arrived in Torquay, the day was just beginning to fade. We got a glimpse of the harbour lit up in a deep orange glow. For a moment, it really did feel like we'd travelled into a foreign country. The air was warm, but not humid. The breeze was refreshing and carried with it the tantalising scent of salt, sand and burgers.

Our stomachs were the only parts of us that were unhappy at this point, so when we got to the house – one of the best large houses to rent in Devon, the gorgeous Riviera House, complete with its own gym, hot tub and 3 acres of grounds – we immediately took a look around, unpacked our things and set off in the search of food.

ShellFish By The Shore
We found it in the shape of No 7 Fish Bistro and Wine Bar. According to google reviews, Danny Clark described it as the "best fish he ever did have", which felt so poetic that we thought we ought to give it a try. He wasn't far off.

The fish was delicious, freshly caught from the local sea, which was glistening moon-beams right outside the window in front of us. We sat for a good couple of hours planning out our next day, drinking pinot grigio and consistently glancing at the desserts in the hope that everyone was thinking the same thing – of course, I had pinpointed the apple crumble flamed with calvados almost as soon as I had sat down.
We slept well that night, and the next morning we packed up our towels, suncream, sunglasses and swimming gear and quickly made out toward Meadfoot Beach.

Beaches, Beaches, Beaches
Unsurprisingly – and unapologetically – this is where we spent the majority of our trip. Of course, there are tons of things to do in Devon, but it's hard to ever stray too far from beaches like this. The sun was out for the four days that we were there. The sand stung under our toes and the waves sparkled with tiny flames, inviting us in for a dip.

On the second day, I decided it would be a good idea to travel to Torre Abbey Sands, rent a surfboard, and take to the ocean Moana style. I had surfed once as a kid, in one of those waterparks with a sketchy wave machine, but that was nothing compared to being out on the tide of the Sands.

After a few tips from a lovely instructor – one of those long-haired, wooden-bracelet chaps who probably had a 14:00PM class in Devon before a 18:00PM session in Hawaii – I was left to my own devices. I can't say I was any good at it, but I did manage to stand a few times, and the view was so good that I didn't want to miss anything while doing silly tricks. Although I absolutely positively could have done...

Venturing Off The Beaten Track
On the third day, we did venture a little way from the beaches to visit the Kents Cavern Prehistoric Caves. This is an absolute must if you're thinking of travelling to Devon, even if you're planning on visiting in the winter. The caves are a maze of ancient, beautiful monuments, complete with fun kid activities and some excellent tour guides.

If you're travelling with children, there's also the Torquay Dinosaur World, which isn't too far from the caves. This offers a range of brilliant dinosaur sculptures and fossils, as well as a few quizzes to keep the kids engaged and put their knowledge to the test.

A Nod To Riviera
On the fourth day, we had to say goodbye to our gorgeous manor house and the town of Torquay. We felt that, if we had an extra day, we would have actually spent the majority in the grounds of the house itself. There is so much to do and plenty of gorgeous spaces to relax in the sun, it almost felt like we hadn't taken enough advantage. But ah well!

There's always next time. I'd certainly recommend it for stag weekends, hen parties, or any group holidays – but, for us, our time there was sadly over. Our next adventure was waiting for us about seventy-five miles westward in the Cornish fishing village of Mevagissey, so we packed up the car and waved goodbye.

Farewell To Devon And A Dawning Realisation…
When we turned onto the main road and saw the distant shores sparkle in farewell, I couldn't help thinking about what Gordy Oliver had said. For a good portion of my childhood life, I believed he had genuinely travelled to heaven, and I almost felt a little foolish when I grew older and discovered the truth. But there was no reason to feel foolish. Not really.
In fact, when I finally left the sun-specked delights that this county has to offer, I felt bad for ever having doubted him. Because Gordy Oliver did visit heaven. Not the heaven up in the faraway clouds, but the one here, in our very own little country. Whether his brother actually saw a mermaid, however, is still up for debate.
Want to visit one these beautiful locations across England and Wales? The Wow House Company are here to help. Our selection of large houses to rent provides the perfect spot to enjoy a break with family and friends and explore England and Wales.
Y
ou can choose a property that sleeps from 5 up to 40 people and most come with that added Wow Factor such as hot tubs, swimming pools and games rooms – not to mention beautiful gardens and some amazing views. Please contact our team on info@thewowhousecompany.co.uk and we'll get back to you.