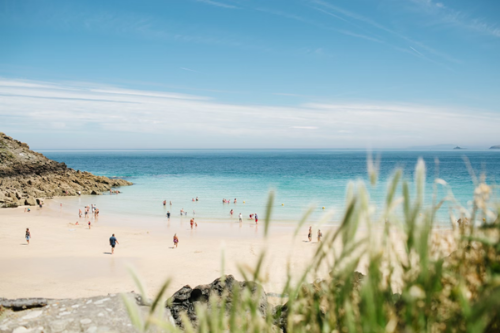 When I visited Cornwall and Devon earlier this summer, I did it with a mission: find the best beaches on offer.

See, I'm something of a beach nut. British beaches, to be specific. During holidays in Australia and Barbados, I've found that lazing away at the beach is something of a routine for the locals and holiday goers. In those countries, the sun is always shining, so there's no feeling of "we've got to cherish this for as long as we can!"
In Britain, however, things are a little different. When we're sat there on the sand, slathered in suncream that isn't working because it's been sat on the shelf for around two-and-a-half years, we're all bathing in an almost other-worldly high.
That's because we really appreciate it, and when you really appreciate something, it makes it one hundred times more special.
That's undoubtedly what the beaches are like in Devon and Cornwall. Special
A Quick Word On The Accommodation
My partner and I went down just as summer got underway, staying for one week in Captains Cottage, St Mawes and then another week in The Hidden Lodge, South Hams.

Before I say anything else, I should note that the houses themselves were incredible. Just because we spent nearly every day exploring the two counties and visiting beaches, that doesn't mean we didn't want to spend every second in our new temporary homes.

These were large houses to rent with a difference. The first one, in Cornwall, had a stunning view of the harbour and a fantastic living area and terrace to relax and unwind after a long day's exploring.

The second one, in Devon, was an almost mystical escape in what felt like the Garden of Eden.

Technically a converted barn, this was a place where you could reconnect with nature, take a rain check, and appreciate the beauty of life – and the private hot tub helped with all that too.

But despite the accommodation being wonderful, my mission was to find beaches. So let's get on with it. Here are my top 5 picks for the best beaches in Devon and Cornwall you have to visit:

Number 5) Porthmeor Beach, St Ives
Ah, St Ives. Perhaps one of the most beautiful places in all of Cornwall. We visited here on a relatively overcast afternoon, but that didn't stop the summer vibes from flowing. Porthmeor Beach was vast and, because of the weather, not too packed with beach-going tourists.

The wind was quite high, but because of the scene's beauty, we didn't care in the slightest. I have the feeling that – should the weather have been perfect – this beach would have been further up this list.

Number 4) Croyde Bay, Braunton
This beach in Devon also could have been given the number one spot on this list, but because my wife got me running the Woolacombe trail – which took us from Croyde to Morte Point – I didn't really have enough time or breath to appreciate it.

That being said, we did stop off to refresh ourselves in the sea, and I snuck in a cheeky Cornetto. The beach itself was beautiful, as you'd expect, with plenty of space to kick up your feet and relax in the sun, even during the tourist season… if only we had been doing that!

Number 3) Porthtowan Beach, Porthtowan
Back to Cornwall, Porthtowan Beach is a gorgeous, secluded spot in Porthtowan. It's a smaller beach compared to the last two, but that didn't stop my jaw from dropping when we got out of the car and took our first look.

What really struck me about this place was the water. It was so blue! Seriously, when you look up images on Google, your first thought is that the ocean has been photoshopped. But no, the water is really like that, and it made the whole place feel positively Mediterranean. Definitely a must-visit if you're in the area.

Number 2) Bigbury-On-Sea, South Hams
Bigbury-On-Sea is a force of nature. Characterised by the sandy causeway to Burgh Island, visiting here felt like visiting a Pirates Of The Caribbean adventure park.
When we arrived, we first wanted to visit the island, but because the tide was in, we couldn't get there on foot. There was no reason for us to worry, though, because it is possible to get there in the ever-popular sea tractor, which takes tourists to the island even when the tide is high. I'd say this is the best beach for families in all of Cornwall and Devon. However, if you're visiting as a couple, there's still my number one pick to look at…

Number 1) Swanpool Beach, Falmouth
Okay, so this one might be a bit "out there", but it all comes down to personal experience. My wife and I found this beach by mistake. We had been enjoying the water at Gylly Beach, which in itself is a beautiful beach with its very own restaurant plonked right on the sand. But to the right of us, there were cliffs and a rocky trail, so we decided to be ten-year-old kids and go on an adventure.


We crossed over the rocks, crept through a cave, and just like magic, there was another beach. But this one was smaller. More secluded. Secret. We lay on the sand for about two hours, and then something got our attention behind us. Another little trail led us to a lake inhabited by swans, ducks, moorhens, and fish you could easily see through the crystal clear water.

The whole experience felt like we'd stumbled onto a fairytale. And that, after all, is what holidays like this are all about -- finding your own fairytale. We found ours at Swanpool Beach, and wherever you choose to visit, we hope you find yours too!


Want to visit one of these beautiful locations across England and Wales? The Wow House Company are here to help. Our selection of large houses to rent provides the perfect spot to enjoy a break with family and friends and explore England and Wales.
Y
ou can choose a property that sleeps from 5 up to 40 people and most come with that added Wow Factor such as hot tubs, swimming pools and games rooms – not to mention beautiful gardens and some amazing views. Please contact our team on info@thewowhousecompany.co.uk and we'll get back to you.