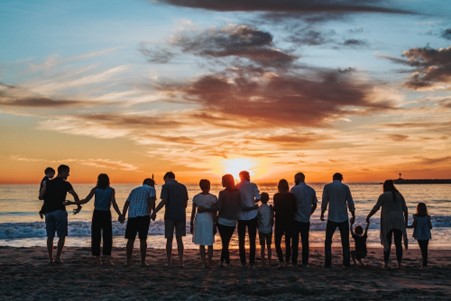 It wasn't necessarily the picture I had in mind when I first turned to my husband and said, "I think it's time for a couple of weeks away". We had never been the sort to fall into a convoy – to treat the smartphones like walkie-talkies as we arranged the next stop at the motorway services, negotiate with three carsful of parents, grandparents, children, and differently sized dogs (with very differently sized bladders).
Until this summer, it had just been the four of us – an (albeit frantic) hour or two getting to and through the airport, twelve blissfully quiet days on a Mediterranean beach, followed by another frantic airport session – this time, in a language neither of us spoke. When the eldest started to learn French in school, we narrowed our scope to Brittany. It was predictably predictable, and we were perfectly happy with it.
Then, the plot twist: "Let's all go on holiday this year!" It was exclaimed by the grandmother-in-law during an extended Sunday roast. I immediately had visions of packed lunches by the dozen, queasy children in the backseat, boiled sweets melting in the glovebox and cooking for fifteen over a butane stove, each with their own list of preferences. My husband and I hadn't organised such a large group since the days of stag weekends and hen parties.
But we conceded, and started looking for big houses to rent. The reality was, I'm glad to say, more different than I could have imagined. After two weeks with the extended family, I can officially call myself a convert.
1. The Right Holiday Home is the Ultimate Reassurance
I will admit to some first-time nerves during that car journey. We had all agreed, quite easily, on North Cornwall – a beautiful destination for a holiday, but not the fastest drive when you're hailing from Gloucestershire. I had spent a good hour making and packing sandwiches the night before (thankfully, only two different kinds, and only one from the anti-butter brigade), which felt like a prelude for what was to come.
Things turned a real corner when we arrived at the holiday cottage. I discovered that the deep sense of relief and joy you can feel when you get home after a long journey can be replicated elsewhere – you just need the right destination.
Our home for the fortnight was a sleek, modern country house – beach views, peace and privacy and, most importantly, space. From the moment our legs unfurled onto the driveway, things changed. The air smelled of salt and warm, damp bark following a light summer shower that had passed through shortly before us; the breeze seemed to ease away the crease on my forehead like a cool hand to a fever. The house seemed to sparkle a little – the sea behind us reflecting in the panoramic glass – while the warmth of a few lamps left on for 'the weary travellers' glowed from within.
2. Family Holidays Needn't be More Exhausting Than Real Life
After that frantic evening of the 'night before', I didn't make any more sandwiches. I didn't find myself running around after five over-stimulated, sun-burned children – nor did I feel constantly ambushed by extended family members. We all fell into a happy, comfortable rhythm. While we spent most of our time in the holiday home itself, we never once felt cooped up or resigned to the at-home routine.
Our mornings were carefree rounds of toast, hazelnut spread and blackberry jam. By lunchtime, one of us had ventured down to the village and bought a fresh baguette, which we buttered and ate alongside slices of omelette, cooked over the enormous Aga plate. Come evening, it was a casual barbeque or a meal out (three tables pushed together) in one of the local pubs or restaurants.
Three nights in, we turned the evening into an impromptu special occasion and arranged for a caterer to transform the holiday home into a 5-star restaurant. The children ate early and retreated into the cinema room while us adults milled about the terrace with canapes and drinks, followed by three courses and a late-night, bare-footed stroll on the grass.
Some days, one or two of us took the younger children shrimping – others, we all mustered the courage for a dip in the sea pool – every bit as brisk as it sounds.
Yes, there were a lot of us – and, yes, some moments were much louder than others. But, where I had expected chaos, overexcitement, and squabbling, there actually ended up being a widespread sense of contentment and calm. It felt all the better to be able to share it.
https://vm-01-crm02.altido.com/clients/wowhouse-2832bb3fb9d80088/img/sunset-view-from-apartment-0017.jpg
3. It feels better to share the best moments with friends and family
It may sound cheesy, but it's true. The beauty of making your holiday bigger – of grouping together to browse party houses to rent instead of squirreling yourselves away in some remote corner of the world – is that there will always be more hands-on-deck to create that happiness, more voices laughing at the jokes, more imaginations working to make the special occasions really special, and more minds committing those moments to memory.
Yes, it's louder – yes, there's always at least one set of footprints dashing down the landing, and at least one hungry mouth or restless pair of legs. But it doesn't all fall on you to sort things out.
I'm happy to say that, during our family break, I found plenty of time to lie back in the sun – to read a good book, enjoy a long, slow meal, breathe in the smell of the sea and fresh air, and lie-in as the sun pushed against the curtains. I'm equally happy to say that I spent plenty of time researching the practical matters like how to drive in a convoy, chasing toddlers doing their best to shed clothing, making beds, hanging soggy swimming trunks and costumes on the line, and refilling the toast rack as the extended family gradually filed into the kitchen.
Want to visit one these beautiful locations across England and Wales? The Wow House Company are here to help. Our selection of large houses to rent provides the perfect spot to enjoy a break with family and friends and explore England and Wales.
Y
ou can choose a property that sleeps from 5 up to 40 people and most come with that added Wow Factor such as hot tubs, swimming pools and games rooms – not to mention beautiful gardens and some amazing views. Please contact our team on info@thewowhousecompany.co.uk and we'll get back to you.