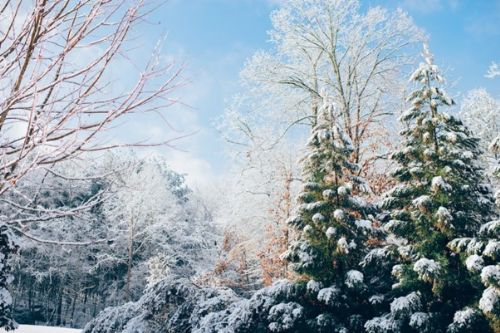 Whoever invented winter didn't do us much of a favour. When the glorious shades of yellow, brown and green fade away at the end of autumn, things can look pretty bleak.
But then Christmas comes along. Bright multi-coloured lights line the streets; shopkeepers walk around in pointed red hats; children are rosy-cheeked with excitement. Then the holiday comes – 12 days, no less – of family, fun, food, drinks, more food, more drinks, and heartwarming Christmas cheer that floods every household up and down the country.
Into The Winter Blues
Until January 1st, that is. Then it's all over. Fireworks have been had. Family is all gone. Food is now placid leftovers of turkey bone and hard cheese. The lights are taken down. And the worst thing is, we're not even halfway out of the dark yet. The days are still cold, work is still a reality, and now all we've got left to look forward to is… what? Pancake day? It has its charm, sure, but it's not exactly going to rub out the winter blues.
That is a task we must do ourselves. Or, at least, that's what I told myself in January 2022.
'I'm sick of this,' I told my wife. 'We need something to get us through until spring.'
'We have Christmas,' my wife said helpfully.
'It's too short. We still have January and February to go. And a bit of March. When does spring start again?'
'So you want Christmas… twice?'
'Yes. I want Christmas and then Christmas again – and don't say that's not a good idea.'
Thankfully, she didn't. In fact, we quickly huddled together (both because we were excited and because we were bleedin' freezing) and booked a week's stay in a large holiday home in East Sussex.
Why East Sussex?
Well, that's a good question. I've always found that – in order to really unwind from the hubbub of the city – the big houses to rent in the south are the perfect remedy, especially if you want to feel like the lord of your own manor for a few days.
Well, I certainly felt like that. Myself and the family visited Mayfield House right at the beginning of January, just seven days after the fireworks stopped and things were going back to normal. It didn't for us, though! Instead of saying our goodbyes, we said "farewell" and were happy with the knowledge that we were all going to be meeting up again in one week's time.
The Beauty Of Mayfield
And what a place to meet up! Mayfield House is a modern country house, complete with an indoor swimming pool, steam room, cinema room and even its own gym. It can sleep 14 guests – we only had 8 – and the bedrooms themselves look like they have popped straight out of the nineteenth century.
We had concluded that we would spend the majority of our time using the facilities of the house itself. After all, why wouldn't you? But we actually went out and experienced East Sussex far more than we had planned to. It started with the nearest village, Mayfield, which is the perfect example of why we cannot let the high street die. In this village, there are a number of quirky, individual shops selling antiques, artwork, toys, books, and the big chains are kept to a single Londis on the corner.
We had a little trot around here on our first day and then went for a bite to eat in The Rose And Crown. On that day – a Tuesday – they had a pub quiz going on, so we sat and put our knowledge to the test. On tap was Harveys – my personal favourite - and another brewery that I'd never heard of before. A local ale named Lakedown. And, I have to say, it converted me. Throughout the evening, we sat, drank, subsequently failed the pub quiz, and then finished up with a few nibbles around the table.
Walks And Woolfs
The next day, we went a little farther afield to a place named Monk's House. My wife is a big literature nut – she consumed as many as three books over the course of the holiday, while I consumed more Lakedown – so she couldn't pass on the opportunity of visiting the home of the late great Virginia Woolf. I have to say: I'm glad I came. The house is beautiful, kept lovingly by the National Trust, and it is full of interesting Bloomsbury group treasures, as well as a splendid garden where the group used to gather.
At the midpoint of our holiday, the whole family went on what is known as the "circular walk", which takes you through the countryside and the village of Mayfield. In our woollen hats and scarves, peering down at the quaint, old town, I couldn't help feeling like a proper Victorian gentleman. Due to the lack of signal, we had kept our mobile devices in the house, so all we had was the sound of the frost breaking beneath our feet and the occasional, light-hearted chit-chat.
We went on many more of these walks during our stay, and whenever we got back, we would always shiver our way to the indoor swimming pool. There, we would take a dip, rediscover our fingers and toes and then relax in the steam room. If there is a day-by-day agenda up in heaven, I hope it looks like this.
The Perfect Answer To Winter
By the time the last day came, none of us wanted to leave. Where had the time gone? We still had so many things we wanted to do, but we made a vow to come back next year. Perhaps visit the nearby town of Battle to visit the Abbey, or the beaches of Rye to try a spot of surfing (although we might save that one for the summer). Most of all, though, we wanted more time in the house. This is one of the most beautiful large houses to rent in all of the south, and we felt that there were so many more secrets it wanted to tell.
As we drove away in the car, I remember actually mouthing the words "thank you" just before it disappeared behind the bushes and shrubs. This house had done its bit to single-handedly wave off the winter blues, and for that I was eternally grateful. I closed my eyes, my collection of Lakedown bottles rattling in the car boot. I said to my wife:
'You know what, two Christmases is enough. I'm ready to get back to normal now.'
'Don't get too comfortable,' she smiled at me, 'I'm planning two Pancake Days this year. One at our place and the other in the Bahamas.'
I blinked at her. Then I went to sleep wondering how I could change her mind from the Bahamas to East Sussex. With a stay like the one we had just had, it shouldn't be too difficult.
Want to visit one these beautiful locations across England and Wales? The Wow House Company are here to help. Our selection of large houses to rent provides the perfect spot to enjoy a break with family and friends and explore England and Wales.
Y
ou can choose a property that sleeps from 5 up to 40 people and most come with that added Wow Factor such as hot tubs, swimming pools and games rooms – not to mention beautiful gardens and some amazing views. Please contact our team on info@thewowhousecompany.co.uk and we'll get back to you.