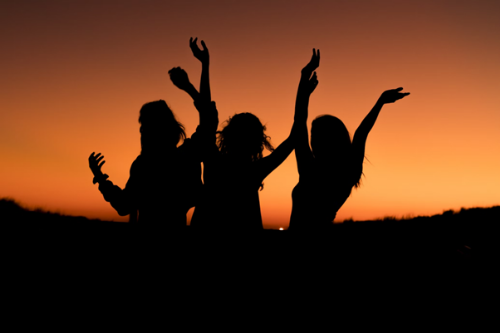 How to Plan The Perfect Hen Party Getaway
I remember when my best friend asked me to be her maid of honour. I reacted how any normal person would react.

You chose me?!

I mean, I knew she would choose me. We've been best friends ever since she was a six-year-old eating chalk, so it wasn't the most shocking revelation. But still, I was delighted! I had a smile on my face right up until she said:
'I can't wait to see what you have in store…'

Huh? What I have in store? It took me around three seconds to work out what she was talking about. The hen party. Of course, the hen party. That was my responsibility. All the pressure, the stakes, the potential for disaster: that had all been put on my shoulders.

I always knew she hated me. Ever since I convinced her to eat chalk.

Preparing The Perfect Hen Party
But hey, those fears lasted for around a day. When I got up the next morning, I had a strut in my step and a confidence that we would put on something to remember.

And we did! Sure, there were problems along the way. Bookings went a little awry, budgets were cut, and there was an unfortunate incident with a rogue Ibizan crab that we'll save for another day. But overall, it was the perfect hen party.

So if you're finding yourself in the same situation as me, know that you can do this. You've got it in you to organise the perfect hen party, and just in case you think that's baloney, I've concocted a guide that will ensure you can't get it wrong.

This is the guide I wished I had, just to make sure all those little crinkles were ironed out before the weekend began. Apart from the crab, of course. You can never prepare for a rogue crab.




Where, When, Who?
Okay, first off, think of the 3 W's: Where, when, who?
As for "where", I recommend you look up some hen party houses to rent online. Sure, you could book a hotel, but having a house all for yourself really makes the difference when it comes to freedom and space.

When you've got a group of friends comprising the bride's close family and her bridal party, you've got a little more wiggle room for finding a really top-tier house with all the essentials – and a few non-essential luxuries.

From pools or jacuzzis to cinema rooms, private tennis courts to harbours, there are so many 'special extras' you can look for in your hen party house. Just make sure the venue accepts hens – it's easy enough to find a great place!

Regarding the "when" and the "who", make sure you consult the bride. She will give you a list of people she wants at the party, as well as an indication of when she might like it to take place.

Follow her directions as much as you can. It will be nice to surprise her, of course, but there'll be plenty of opportunities to do that later down the line.

Make Sure That People Arrive
Next, make sure that people can actually get there. I recommend you start a group WhatsApp chat, give them the initial times and options for party houses – maybe pick a handful to get the ball rolling – and then open up the floor.

You want to make sure that everyone can get there as easily as possible, so this is a good way to get the conversation started and for people to make their plans.

Make Sure That People Want To Arrive
When you're finding a good party house to rent, make sure to look at the specifics. What can you do there? Are there fun hen party activities that you can book? Is there a swimming pool? A hot tub? A local karaoke bar?

You'll want to think about the bride's personality and interests, as well as the group's – don't shy away from the court of public opinion. When I organised my friend's hen party, I made a little survey and sent it to the WhatsApp group, and the questions included:

● What would you like to do at the hen party?
● What would you like to see?
● What would you hate to see?

This went on and on for another two or so pages, and it really helped me formulate a consensus on what sort of activities I should go for.



A Daily Schedule – But Just For You
Once you've got the house, the date, the people, and the activities, it's time for you to create your own schedule. This will include a daily timetable, starting at the crack of dawn and going right the way through to… well, the crack of dawn, if you do it right!

Things to include in this schedule will obviously be the activities you're doing, but also lunches, dinners, pre-drinks, drinks, you get the picture.

No one else should see this schedule, especially not the bride – it would only freak her out – but it's a great thing for you to have just to make sure you keep on track.

Don't Be A Headless Chicken
By this, I mean don't leave anything to chance, especially when it comes to budgeting the hen party. You should know exactly where the budget is being spent, where you should be cutting costs, and what areas of the party deserve a little extra TLC.

It might be a great hen party if you spend loads, but the memory will be soured if you all have to start recuperating costs.

As well as this, make sure that you book. Seriously. Book now! Don't waste time umming and ahhing. Once you've found a place that you all agree on – and activities that you all enjoy – make sure to book it and avoid having to start from scratch.

Just remember, you're a hen, not a chicken. And certainly not a headless one! So get yourself into gear and organise the best hen party in the world.