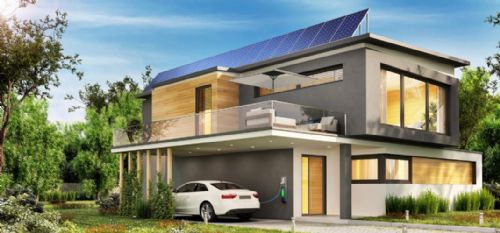 Electric Car Charging At Holiday Cottages
I recently bought myself an EV. It's a beautiful little MINI Electric, and apart from making me feel better about myself on the roads – and also a little terrified whenever I set off without the rumble of an engine – it did get me thinking about holiday lets.

See, me and my wife are kind of holiday nuts. Every summer, we set off somewhere different in the UK or abroad to experience the local culture, the food, the activities, and also live like royalty in our own luxury house or cottage for a while. But updating my creaky Skoda for a brand new electric MINI did get me thinking: the world is changing, but are holiday lets changing with it?


It turns out, yes they are. But we as the guests have got to take a bit of a different approach when we're booking them. To start this blog, I want to list three of the most recent holiday cottages we've stayed in that were EV-suitable:

Great Cottages For EV Drivers

I don't feel I have to note that not all houses and holiday-makers are the same, but I'm going to, just to stave off confusion: not all houses and holiday-makers are the same.

These are just some of the cottages that worked for us and the kind of holiday we were having, but it's always best to take a deep dive and factor in where you want to go, what works best for your party, and then look at the finer details like EV ports and local chargers.

Cromwell House
First off, Cromwell House. This is one of the most beautiful large houses to rent in West Sussex. It sleeps 10 to 12 guests, which made it perfect for my father's 80th birthday party, of which there were exactly 12 of us! The house feels both old and modern at the same time, with a beautiful outdoor swimming pool and, of course, the use of a CCS-type electric car charger.

What If Your House Doesn't Have EV Charging?

This gets me to my original point. How should you book differently if you have an EV car? Well, as mentioned before, I'd recommend making sure the house and location are perfect and then looking into the EV charging situation.

Most properties will have EV charging availability on their listing, so it's just a case of reading it through thoroughly. If they don't, then don't be afraid to ask, as most hosts will be happy to point you in the right direction. It's also pretty important if you are going to be at a property for over five days, I'd say. If you want to explore the local area, then you're going to need a car, and having a reliable, nearby charging point is necessary to keep on track.

There are also handy guides to EV charging points, wherever you are in the country. An app like ZapMap will ensure you stay in the green, even if you have to venture off the premises for an hour or two.

The EV Situation

While not every holiday let has EV charging points yet, they are becoming increasingly popular – a recent government voucher-based scheme provides support toward the purchase and installation of EV charge points – and it's only a matter of time before every holiday let jumps on board.

According to one of my recent internet browsing sessions – because once you own an electric car you have to know everything about the world of electric cars – 2030 and 2035 are supposed to be the year by which every car will be electric, and you can see this with the amount of EV charging points popping up all over the place. For now, it's those charging points that will make your EV holiday doable, but as mentioned before, always check if your chosen property provides a charger, and how close other chargers are if they do not. Happy electric holidaying!